What Did Sam Like ?
Sam liked to make a difference.
. . . and he did – in many ways. Sam loved life : making meals, listening to music, dancing, was passionate about teaching and left-wing politics, and relished any opportunity to be with friends and family.
One of his loves was volunteering for many years at Casa Taller, where he could spend time with children and young people, playing games, making pizzas, planning the travelling school, working on their garden project, running a carpentry workshop and helping to plan the future direction of the project.
A group from Brasil has produced a film about Casa Taller, which clearly shows why he felt that this project mattered enough to use his free time to cycle up the steep hill up to San Louis, a poor community neglected by the state, high above Bogota in Columbia, where he worked and which became his home from home.
Spoken by some of the community at Casa Taller (in Spanish with English subtitles) :
What else did Sam like ?
Lots! Cycling, running, boxing, kids, Latin America, whiskey, doing graffiti, photography, talking … travel, woodwork, building, gardening, human rights, education, veganism, swimming, treking, rock climbing, world politics – John Pilger political thought, international relations, teaching English, Viz comic, Charles Rennie Mackintosh, running workshops, Scotland, teaching thinking skills, boats, family, music, friends, friends, friends. Learning and teaching; he spent hours on his teaching approach. Reading – especially political left wing -Che Guevara
Music. There is lots of music that Sam loved
Throughout his life, Sam loved listening to many styles of music, whether live or recorded : Drum 'n' Bass, Electro, Garage, deep House, DJ-ing at events and Scottish Ceilidh music. Favourites included Roots Manuva, Daft Punk, Chemical Brothers, DJ Shadow, Faithless, Leftfield, Herbaliser, Bob Marley, Mr. Scruff, Beastie Boys, Basement Jaxx, Dimitri and Laurent Garnier. More of his favourites can bee seen on his Facebook.
Some of Sam's musician friends and family have felt inspired to offer their own musical tributes to Sam. . . . remixer Seb Wildblood has released this re-working of "A Palé" by Rosalia as a tribute :
---
Thomas Ling, Sam's uncle, wrote and performed this thoughtful tribute to Sam, called "Nothing Is Lost" :
---
Thomas Ling also has set a poem, called "For Sam", by Emma Burgess, a good friend of Sam's, performed by Thomas and with his partner Rowena Whitehead providing the harmonies :
---
The same poem also inspired a good friend of Sam's family, Bex Mather, to set and perform "For Sam" as a tribute for Sam's Birthday :
nn
---
Thomas Ling has also composed a fiddle tune as a tribute, called "Sam Ling Gibson", which is upbeat and good for dancing. It's a fitting tribute and was played at Sam's wake when everyone got up and danced in true Sam-style :
---
Robin Dunn has created harmonies for the "Sam Ling Gibson" fiddle tune, written by Thomas :
---
Josh Green, lifelong friend, adds his own beautiful tribute to Sam by singing John Martyn's "Couldn't Love You More" with Katherine Zeserson adding the harmonies :
---
Katherine Zeserson and Josh Green have also recorded "Here is my Home" by Si Khan, especially for this tribute to Sam, who was always welcome into their home :
---
Andrea, Lisa and Rob have recorded Marvin Gaye's "What's Going On?" as their tribute to Sam's passion for politics :
And Andrea, Lisa and Rob also chose to sing "Nature Boy" to acknowledge their admiration of his lifestyle – a song made famous by Nat King Cole, George Benson and Lady Gaga among many others, written by Eden Ahbez : "The greatest thing you'll ever learn is to love and be loved, just to love, and be loved."
---
Bethany Ellen Coyle, family friend, is singing the "Sky to Sand to Shore (Peace / a song for Erraid)" as a tribute to Sam, performed on the Glass Orchestra at the Rhumba Palace :
Bethany Ellen Coyle, family friend, is singing the "Mingulay Boat Song" as a tribute to Sam, chosen because she sung it at Andy's funeral, because it is one of his favourites songs, and appropriate to the West coast of Scotland (an old gaelic song written by Hugh S Roberton) :
---
"Auld Lang Syne" sung by family friend, Greg McShane . . . .
---
Cooking. Sam loved cooking as much as he loved music mainly because it was chance to gather people together, and wold happily spend hours preparing meals. He was always keen to share his expertise with anyone who could enlist to join him. Some of the early recipes reflected his time as a fisherman, though he later became a vegan. This video will teach us how to prepare and cook a Colombian dish 'Patacones con Hogao' being prepared by his good friend Tammy :
Sabrina Repa has put together a little video to show what we believe is one of Sam's favourite recipes – Aubergine Curry – Sam would take over the kitchen making this wonderful curry :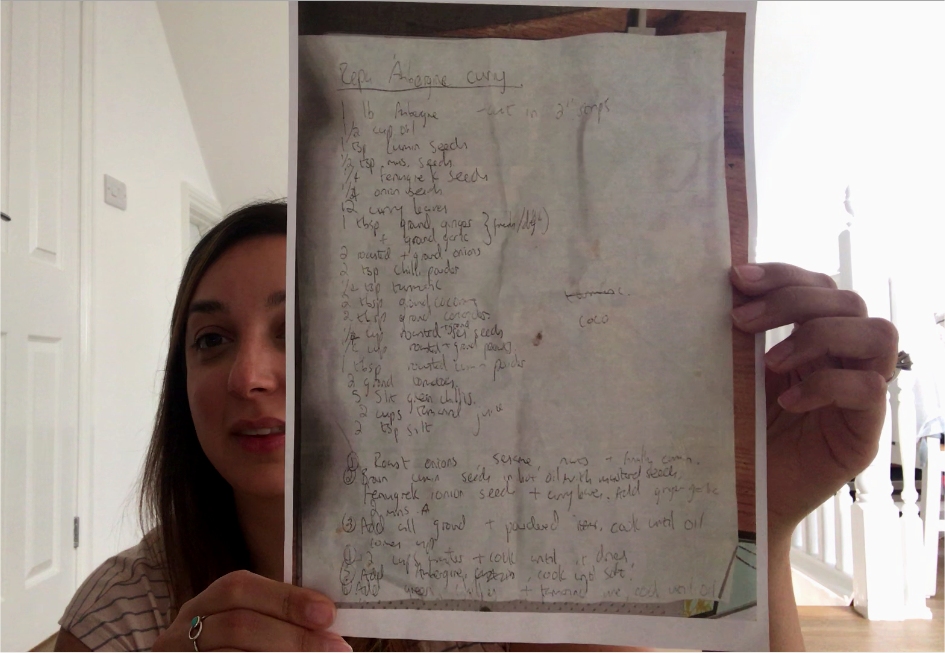 This recipe has been a well-kept family secret which Sabrina hesitated to share. Ironically, when she prepared a video discussing it, it didn't play properly, but this still from the video is that secret recipe, revealled for the first time!
We'd like to take this celebration as an opportunity to share four of his own favourite recipes – so take a leaf from Sam's book, put on some nice music, make an interesting meal and enjoy it with your friends. [It's not clear what 'parch' refers to, his writing was unclear! Suggestions welcome.]
Lentil Veg Soup
 3 onions - Fry 5 mins
 1 tbsp gr. on (?) & garlic - 2 mins
 turmeric, cumin & corriander - 1 min
 6 green chillies, slit
 1 bag carrots, chopped
 1 chopped head of celery - 10 mins
 2 squashes or 1 big pumpkin
 Add water
 1 beetroot
 block of coconut
 1 bag red lentils [500gms]
 juice of 2 lemons (or try tamarind)
 2 tins of tomatoes
Cook for 40 mins.
Garlic pickle
 7 bulbs - peeled
 6 tbsp mustard oil
 1/2 tbsp turmeric
 4 tbsp lemon juice
 2 tbsp chilli powder
 2 tsp finely chopped jaggary
 1 tsp salt

Ground together for the masala :
 4 tsp split mustard seeds
 1/2 tsp split fenugreek seeds
 1/2 tsp cumin seeds
 1/2 tsp crushed corriander seeds
 1/2 tsp asafoetida

1. Saute low flame garlic & turmeric 3-4 mins
2. Add lemon juice - cook 2-3 mins
3. Add chilli, jiggery & salt - cook 2-3 mins
4. Add masala mix. Cook 1 min
5. remove. Cool. Store in sterilised jars. ready in one week.
Colombian Fruit Salad 
Ingredients :
 - 2 small pineapples
 - 1 ripe mango, peeled and diced
 - 2 cups strawberries, sliced
 - 1 small papaya, peeled and diced
 - 1 cup small seedless grapes
 - 2 cups watermelon, peeled and diced 

If you want a dressing use this, but it is optional, fruit alone is good for me :
Yogurt dressing :
 - 1 cup plain dressing
 - 2 teaspoons honey
 - 1/4 teaspoon vanilla extract

Colombian eggs (with sweetcorn) (for each portion) 
Ingredients
 - Sweet corn, not on cob (a bag of frozen will be fine)
 - 2 or 3 eggs
 - pinch of turmeric
 - a quarter onion
 - pinch of salt
 - 1 teaspoon coriander (fresh), chopped
 - 2 teaspoons sunflower oil

On side offer some sort of hot sauce as they would in Colombia, and people can use it if they want.
 1. So, for each person fry onion till a bit browned (takes a while so probs best to do this en masse before to save time and effort).
 2. Then add sweetcorn for 2 mins.
 3. Then turmeric for 1 min, then eggs and coriander and salt.
 4. Keep stirring to make them scrambled.

Butternut squash
 3 tbsp veg. oil
 large pinch asafoetida
 large pinch parch (?)
 1 bay leaf
 1 - 2 dried chillies
 1 onion
 1/2 tsp turmeric
 2 tp cumin & corriander
 salt, sugar
 2 tsp ginger paste
 500mg squash, cubed
 200ml water
 200g chickpeas
 1 tbsp garam
 1 tsp fennel seeds

 - Heat oil, fry asafoetida, bay, parch (?) & chillies. Heat 2-3 mins.
 - add onion. Heat 2-3 mins.
 - add turmeric, cumin, coriander, salt, sugar & ginger.
 -  Splash water. Heat 1-2 mins.
 - add squash & boiling water. Simmer with lid 10-15 mins.
 - add chickpeas, garam & fennel seeds. Cook 1-2 mins.

Haricot bean tabouleh
 250g bulgur wheat
 1 large bunch spring onions, shredded
 1 cucumber, dried
 3 tomatoes
 1/2 tsp cumin
 1 large bunch parsley, chopped
 1 large bunch mint, chopped
 Juice of 2 lemons
 4 tbsp oil
 50g good black olives
 1 tin haricot beans
 head of lettuce (Romaine)

Soak bulgar wheat in cold water for 2 mins.
Add spring onions, then cucumber, tomatoes, then everything else.
Dancing – A good evening for Sam could involve eating and going out to a club with friends. As a young man he enjoyed breakdancing and clubbing, and when in Scotland he would enthusiastically head to a ceilidh for a wild night. Colombia is amazing for many styles of dancing which Sam enjoyed and appreciated.
Dancing – Breakdancing. Sam was enthused by nearly all styles of dancing and the culture around breakdancing.
Friendships. Sam had many friends, who were always an important part of his life. The 'Tributes' page on this site and the Sam Ling Gibson Facebook gives us a good insight into how essential friendships were in his life.
Work.
Politics. Sam was a socialist, wanting to play his part in creating social change. He had been hugely interested in left-wing politics from an early age – his first and only car had a picture of Che Guevara on the side. Whenever he could, he supported causes he believed in. A taste of some of that is reflected in his university dissertation. His recent Masters illustrates some of his thinking around peace and reconciliation (check 'Sam's Writings' on this site). His dissertation was well received and earned him an award.
The Sam Ling Gibson Trust is a UK Charity No 1191726