On Tuesday 12th May 2020, Sam would have been 36. This website celebrates his work with the community at Casa Taller, work which we are very proud to support through the Sam Gibson Ling Trust. But we also wanted to celebrate Sam's life, and to allow his many friends and family to share and enjoy their memories.
Some of you will already have posted your thoughts on the blog, and we have been gathering together some pictures from throughout his life and some letters and memories of his childhood and his travels to compile this tribute. We also have a film about Casa Taller – the place, the work, and most importantly, the people. We hope you find these as moving as we did – he is missed by us all.
Sam was born in Gateshead in 1984 and died near Erraid in 2019.
• What Did Sam Like ? • We are sharing something of Sam's joy in music, food, friendships, and in his work. You can read, see and hear about that, including a brilliant film, by clicking here *
---
Geraldine Ling, Sam's mother, has chosen these pictures from Sam's life.
---
12th May 2020 – The Boy with the Lobster Tattoo
I am Sam's mum – Geraldine (Gerry) Ling. The 12th of May would have been Sams 36th birthday and I would like to mark the occasion by creating a few snapshots from his life.Everyone has stories and memories about the people they love and these are some of mine. I include some of Sams own writings from school and his travels. He would have found ways of celebrating his birthday in his adopted beloved Bogota, the place which gave him many loves, opportunities, challenges, political awareness and friendships He had loved Colombia since his first visit with Holly in July 2005, age 21, and returned in 2010, age 25, to live and work.
Normally, on his birthday he would contact me and his brother Joe and tell us about his day. With the current lockdown, I imagine he would be using zoom to speak with me and Joe. He would probably mark the occasion with the odd firework or two, make a meal and enjoy a wee whiskey.
Thinking of Sam and this, the first birthday after his death, I know he would be so cheesed off not to be here, not to be alive. He loved making the most of any occasion – birthdays, Christmas, parties and loved gathering friends and family around a table with food, drink and lots of conversations about anything and everything – life, friends , work politics….
I can think of no better way to mark this very sad occasion than do what Sam would do- bring people together. We love the fact that he has built bridges between us and created a community of people involved with Casa Taller. This legacy would have thrilled Sam.
Since Sam's death in July last year. I have spent a lot of time missing him, talking about him ,crying for him, thinking about him, reading through his writings and looking at photos. Joe and I visited Colombia in November where we were made so welcome by Paola and Mati (her son) ,Harry ,Chris ,Nicolasa, Mateo and the team of volunteers at Casa Taller .It gave us a chance to meet people from his life and attend a ceremony high in the mountains to scatter Sams ashes.Joe and I had divided Sams ashes into 3 parts to scatter at home in the river Derwent, a third to Erraid and the final third to Casa Taller. These were all important places in Sams' life.
Here I ,attempt to make some sort of sense of his remarkable life and include some of his own writings. I hope you will join me on this journey.
The Bensham years Sams' birth 12th May 1984-1991.
Many of my memories of Sam growing up are obviously linked with his younger brother Joe. They grew up together. Kahlil Gibran may have said 'our children are not our children' but they did feel like our boys and everyone knew who we meant when Andy or I talked about 'the boys'.
When Andy and myself got married in 1983 I was already pregnant with Sam. We were living together and as we both hoped for a family, this was welcome news. We had just moved into 152 Whitehall Road in Gateshead and it needed lots of work. Andy was, of course, amazing with all this, and we managed to make a functioning home by the time Sam was born. It was a home birth, (as was Joe's, a couple of years later) and the midwife insisted on us getting a bed instead of a mattress on the floor as, she understandably thought her back would suffer.
I was soon back to work with the new baby. And as I worked for a feminist community arts project (Them Wifies) everyone was relaxed about babies and children being around, and for the women's groups to meet, we set up creches. Sam fitted right in and I have plenty of memories of Sam as a baby coming with me to work.
My co-worker was Katherine Zeserson, who had her son Josh the following year and I had Joe the year after. It would be illegal now to have children and babies rattling around in the back of a rickety old van breaking down on the way to run sessions with our groups – Women May, The Lawnmowers and the Teenage Mothers Group to name a few.
At that time, Andy worked at a project in Sunderland called The Bunker and his co worker Gaynor, had two children Jennie and Beth so there was lots of juggling with childcare arrangements and we enlisted help from friend Arlene and Maureen the childminder. It was a good time for under fives as people, like Nora Donovan, had created good childcare provision in Gateshead. Changed days !
Sam, first went to nursery and then was very excited to be starting primary school and on his first day he went off happy and smiling, but returned pretty annoyed to announce that he was the only one with short trousers – he never wore them again. The Boys were born within a couple of years of each other, and they often ended up in our bed and I can still feel the cosy warm feeling of the four of us safe together on a floor of mattresses. Memories form part of our senses and many of my happiest memories involve Sam and Joe. Our home in Gateshead was near Saltwell Park, which we visited a lot. It had a few birds and animals, a little lake with boats and ducks, a play area and even an old aeroplane. We'd go to the soft play and the swimming pool in Gateshead leisure centre, and we'd make lots of visits to Scotland.
One memory of Sam and Joe was them asking to listen to Zorba the Greek, while both madly running up and down the living room in Whitehall Road turning a dance into some kind of frenzy, waving hankies in the air and throwing their clothes around the room.
About that time they became obsessed with Turtles and my sister Corrie made them fantastic Turtle outfits with shells for their backs, and Andy inventively kitted out their bedroom as a turtle home in the sewers (with cardboard boxes, slides, tunnels and ropes). I think that, at times, they thought they actually were Mutant Hero Turtles.
As some children have comfort blankets, Sam loved hair. This started when he was a newborn and would hold onto my hair. Later, he moved on to an old wig which he carried around everywhere. One time when we were all going to the island of Erraid in the west of Scotland, we realised the wig had been left at home and what a disaster that would be for him (and the rest of us). But, on the boat over, he found some old string which he adopted as his new security. That comfort from string lasted, and years later, after he'd left home, I would find odd bits of string stashed away.
Christmas gatherings at my parents' home in Fife provided the opportunity for big family get togethers -decorating the house, preparing and eating meals, playing games, watching films, walking on the beach and spending lengthy sessions around the table with my Dad holding court about anything and everything …. Sam loved it – as we all did.
We visited Fife regularly, with Easter providing another event to gather, and the boys had a chance to have time with their cousins Neil, Jennie, and a few years later their cousins Anna and Rebecca. These were also good times for the grown ups – me, Andy, Corrie, Thomas, and his partner Rowena – to catch up.
The Croft on the island of Erraid, on the west coast of Scotland, was also regular destination. It had been a holiday home for the Gibson family and Andy's mum had recently moved there from London. Andy was very attached to it and, as a young man, had lived there, working as a lobster fisherman (alongside other work) with Nigel Burgess. Sam, years later, also lived in the croft and worked as a lobster fisherman, and the large lobster tattoo on his forearm was a tribute to the respect he had for these amazing creatures.
Erraid was a place which offered lots of freedom for Sam and Joe – no roads, no cars, no shops and a place where they could have lots of fun with their friends. Andy would encourage as many of their friends as possible from Blackhall Mill to come and stay. Most summers there was a reunion with their American cousins – Tom, James and Nick, and the boys had many adventures.
These reunions also gave the adult siblings Andy, Giles, Judy and partner Steve, the opportunity to catch up. The Gibson family would be complete when Tony and family friend Jonathon joined them.
Move to Blackhall Mill -Summer 1991 Sam aged 7 Joe aged 5 – The Primary Years 1991 – 1995
Moving to Fife Terrace in Blackhall Mill next to the river Derwent was a great move — Sam spent the first day running in and out of the house telling Joe it was safe to play outside and there were no bullies – yet!….And still, there were no bullies … they were welcomed into a community which provided them both with lasting friendships and where they could safely run out of the house and play in the street, or up the farm track and into the woods.or run down to the green next to the river. A third of Sam's ashes were scattered in the river by the community here and family and friends to mark a place he loved and always returned.
They both started at Chopwell School, just a short bus ride up the hill.
Friends have always been very important to Sam and Joe, and growing up in "the Mill" offered them much freedom as they only needed to step out the door to play with friends or venture further afield to go swimming in Prudhoe Pool with its wave machine or Consett Pool with its inflatables.
I was working a lot with Lawnmowers Theatre and Sam and Joe had opportunities to spent time with them, visiting Centre Parks, Liverpool and generally growing up with them around and they were always welcome at work – when another worker Jenny Campbell moved to Chopwell they were delighted as it meant they could go up the hill and have a crazy times with her and her huge sheepdog Haggis which was bigger than them and even wilder.
We soon found our own stray dog to try and settle into our home and have a few lasting memories of her eccentric behaviour.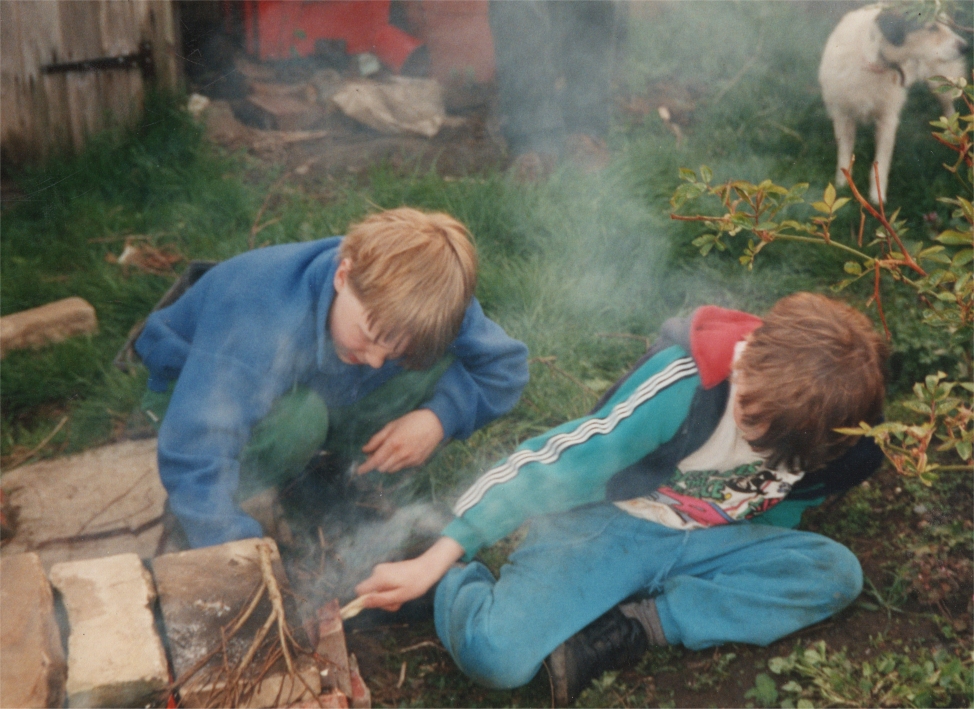 From Sams school diaries : Jan 1993
I went to my gran and grandads house. On the way the dog was sick 2 times…..we got there late afternoon and i played on my caveman computer game. At suppertime we had soup then we went out sledging in the snow.Then we left a mince pie for Santa and a carrot for Rudolf. When I got up in the morning I opened my presents. I got a solar trader board game and a troll. Then I opened my Christmas presents under the tree. I got a remote controlled car, a fruit and veg powered clock and a recorder (instrument) and they were my main things.
March 1993 From Sam's school diary. Age 9
On Saturday I went to short tennis in Consett. I went with my friends Andrew Martin Liam and David. When we got there we had a competition and David won. Then we went on the bouncy castle. Then we got something to eat. Then we walked to the swimming pool we went in for an hour and a half. But when we got out my friends mam came for a swim so Andrew asked if we could go in again for free. We were allowed. So we went in again and we all got a float. When we got out again we all went on the computer game and we completed it! Then we had to go home. I had a good time.
June 1993
On Thursday after school I went to my grandma's house. She lives on an island and there is only 4 other people living on the island. I went with my friend Liam. On the way up we camped on a campsite with a swimming pool …… then we drove to the coast and we rowed to my grandma's island. When we got there we went fishing. The next day we went to Balfours Bay and lit a fire. Then we caught some fish ……
At school, Sam loved being involved with anything and everything.
The Hookergate Years 1995 – 2002
During his years at Hookergate Secondary School Sam would be hatching plans both with old friends from the Mill and new chums from school like Liam Turnbull, Lisa Henderson & Katie Byrne.
Sam tried various schemes to make money – collecting and repairing trainers from the tip to sell on, buying and selling mobile phones online, and when he was old enough he found work – first in a bar in Newcastle at 16, and then IKEA a year later till leaving school. He passed his driving test at the first possible moment and bought a cheap car from his chum Jason to get him and his friends into town and go clubbing (he altered his birth certificate).
Andy's dad Tony moved from London to Blackhall Mill to live in the street and we all enjoyed having 3 generations so close
Reviewing his own work in 1997 Age 13
"I think that this year I have worked very hard and produced lots of good work and results. Throughout most lessons I work very hard but occasionally misbehave but very rarely. My homework is done to a top standard. My targets for next year are to improve behaviour and take more time over presentation."
And Sam writing in 1998 Age 14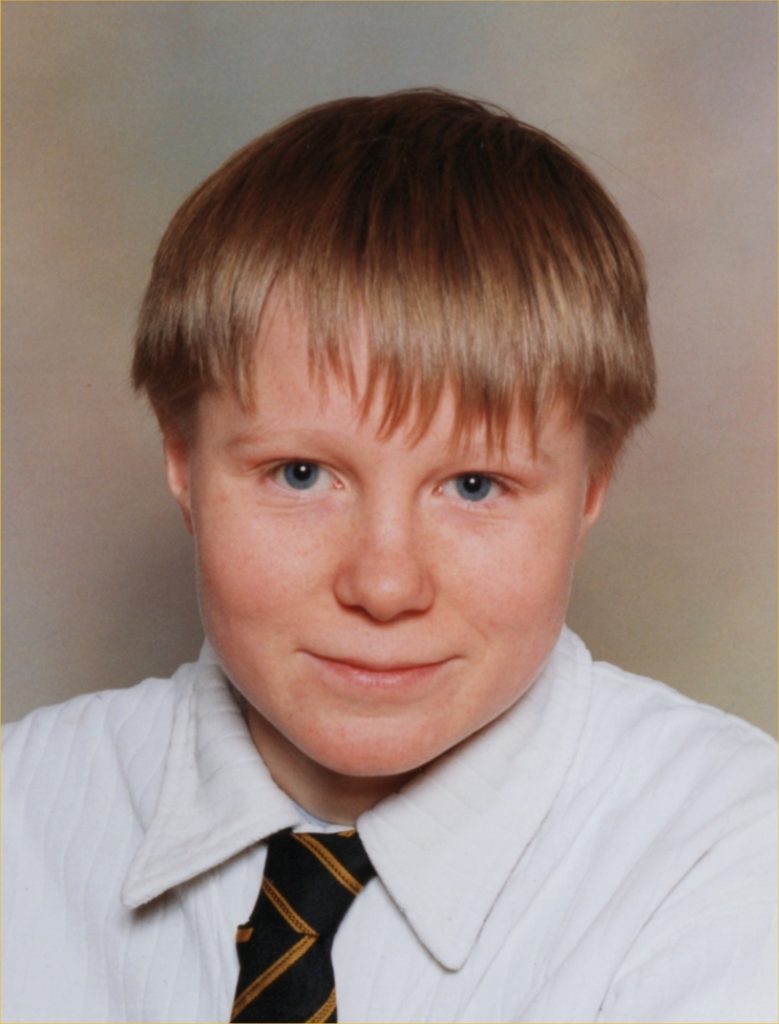 "So far this year I am far ahead of my set maths targets I am still going to my regular lunchtime clubs eg science and young engineers and I know that I do quite well because of the many credits that I have been awarded. My target for this year are to improve my general concentration and to aim my work at a higher presentation standard." (Again ?)
In his national record of achievement June 2000 Age 16
"During my time at Hookergate School I feel that I have fulfilled my potential in my education while still allocating time for voluntary and social activities.
Other achievements in conjunction with school are as follows, all of which of which are voluntary : –
Duke of Edinburgh Bronze award, which I worked over my final years of school….
I was able to exercise leadership qualities …. enjoyment in outdoor pursuits school cross country team … work experience for the Sun Newspaper company in Newcastle, collaborating with a team designing and using newspaper layouts …. I also plan to attend a second work experience in July at a recording and editing studio in Newcastle …. outside school I enjoy a wide variety of sports (including canoeing running listening to music – especially trance and garage and organising trips away with my friends."
Upper sixth questionnaire resulted in Sam being voted as the biggest party animal . . . and having the nicest bum.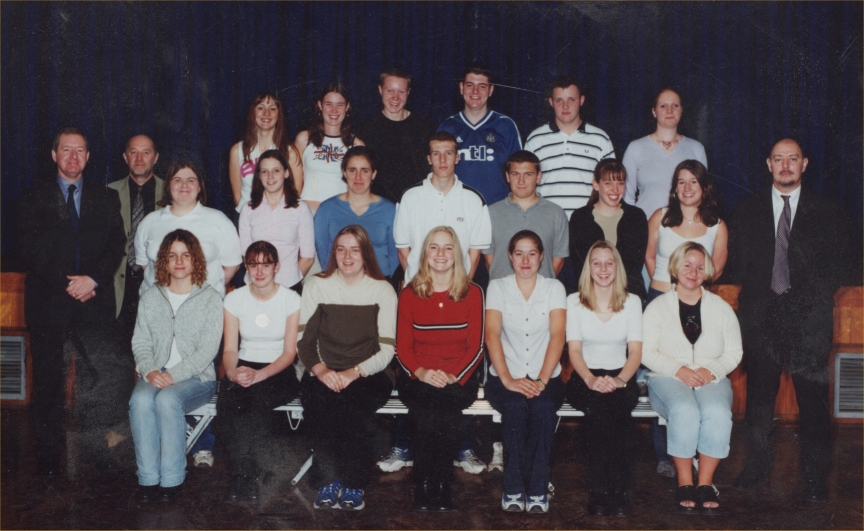 Leaving school and travelling 2002
The boys were lucky to have had opportunities to visit various places – Brazil, The Netherlands and France with my mum and Dad, a trip to Germany when Corrie had exchanged her house, and skiing in America and France with Giles, Judy and their American cousins. This gave them both a taste for travel. Both the boys took gap years.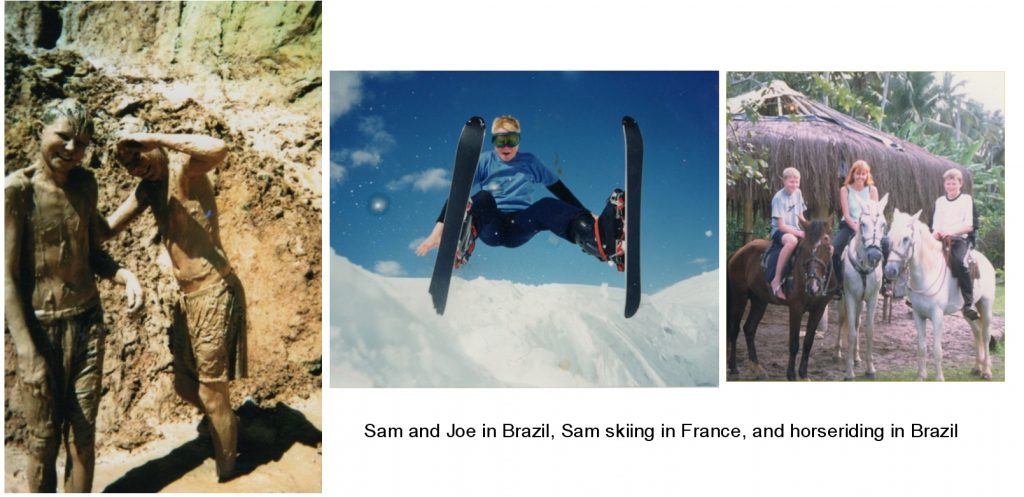 Sam left home at 18 to go travelling the world with his friend Liam McCracken and to give a flavour I include some extracts from his emails -this one sent from Australia on the run up to his 19th birthday…..

28th May 2003 Birthday Antics.
Last email I sent was about 3 weeks ago from bang in the middle of the desert in Alice Springs. A lots changed since then ….the last few days of the red desert were very eventful …….more like being in the tropics, we literally camped in the middle of the rain forest ……. after this was the small happening city of Cairns .… dived the outer barrier reef via 3 hour boat ride saw a shark which was pretty scary cos I'd drunk so much coffee to nurse the night before hangover!
. . . . a few 100ks south of Cairns we went to Magnetic Island. .… here I did my open water scuba diving course …. nearly lost a finger to a mantis shrimp -it's 3 evolutionary generations up from a lobster and can cut through bone! …. after Magnetic Island were the beautiful islands of the Whitsundays about 400 km south ,we went on a sailing ship to get there and used my new scuba qualification to dive the reef, definitely the best dive so far seeing parrot fish, swimming though a coral cave, a 1.5 m long potato cod, and snorkelling a huge napoleon fish so docile it didn't care what went on ! it was stoned or summat!
….. united with my original travelling compadre Liam, we picked him up just before my birthday and hired a beast ex army Land Rover on my birthday and went to Fraser Island ,only dirt tracks here so the van shouldn't have a chance! The main highway on the island is the beach! the van broke down after driving through a big pool very fast after 10 mins on the island. …. we hitched a lift to our resort, which was a big cabin on the beach …. that night we celebrated me being 19 (old) by having a posh meal and lots of wine and free whiskey courtesy of the barman and going to the local bar along with the crazy locals ….. the night ahead entailed my attempted assassination via alcohol poisoning through Sambuca, wine, beers, Baileys and so so much vodka, mostly brought out by the cool staff of the resort who made it a big night. …. You could see our A frame cabin from the bar about 15metres away and I did my best to ask everyone to the after party at the frame ….. the fun and more drink pursued at the cabin with about 30 peeps there and Pied Piper style, everyone started jumping off the balcony onto the grass below, …. anyway after many hours of music later, we slept at 7 AM only to be woken at 9 to move apartments. I forgot that the receptionist at the party had promised a free upgrade to a luxury apartment despite the 4 complaints, but as he was here he could hardly bollock us!
Anyway when we took the Land Rover back they tried to charge us 500 bucks water damages .. we got legal advice and the cop said if we cancelled the credit card and leave, they can't trace you and that is what we did.
Anyway peeps I've blabbed on long enough so speak soon. Love Sam
Sam's 21st 2005 . . . . More Travelling
Sam's 21st birthday email was spent in South America and he sends this email home :
25th May 2005 . . . . Birthday Revolution
I write as the man of 21, and feel I have been learning more in the last few months of my life than ever before, increasing the stark contrast between this continent and the far fetched Europe. Whats more I'm in the middle of a revolution here in Peru. The country is jammed with daily protests and road blocks and its only a matter of time before the corrupt right wing Toledon is ousted or steps down, following Equador's example, and to the North Americas contempt, the people have ousted a fascist dictator only weeks ago. ………
Okay since the last chapter me and Holly parted for a few days (felt longer was so strange after being together for so long) as I left the beautiful yet tourist filled Cuzco to travel to Arequipa to meet an old friend Yuri.
A local bus to the nearest road accessible to Misti .. the locals bombarded me with questions …. from this tiny village we walked with a friendly farmer and his oxen observing the ancient farming methods here, unchanged for centuries and in many cases since the time of the Incas for example the terracing technique used for subsistence farming, each family growing simultaneously a combination of maizes potatoes and cassavas.
A mile up we accepted that the Arbol was too far to reach in the night and had the challenge of climbing the canyon sides to sleep in the sand above and for twenty minutes scrambled up on all fours avoiding the cactuses and desert spiders despite Yuris protests …… the antique of a tent had no pegs and no outer layer and in the dark there was little to do except deal with what we had …. nothing to stop the gale outside sleeping in the tent with us …. amazing canvas of stars
…… slept well on the night bus to Nazca and and was woken at 4 a.m. on my birthday having arrived. Fuck I'd agreed to meet Holly in the bus terminal but it turned out there was no terminal . . but an unbelievably helpful Carlos took me in his car to his hotel and arrange some blankets on the floor to sleep for free, and after wishing me happy birthday left to scour the streets for Holly, who was arriving on another bus from Cuzco.
Woken at 5 by a kiss on the cheek and a happy birthday from Holly! Carlos made us coffee and we headed to an early market and spent my birthday in the only way I want with the real people of Peru. Had some herb tea and talked to people who are equally amazed by our presence and receive gifts of fruit as birthday presents.
After Carlos drove us to the local "airport" consisting of a single strip of tarmac in the middle of the Peruvian desert and a few tiny 4 person planes. After talking to all the pilots and half an hour of haggling and a promised "special" birthday price of about 15 quid we chartered one of those rickety planes with a porn star lookalike called Willy as our pilot who looked alarmingly young we took to the sky to view the wonders of the Nazca lines. A series of shapes and ancient Incan animals created thousands of years ago … on a huge scale to create patterns hundreds of metres across, viewable only from a plane. The craft was so rickety and twice a loud alarm went off, Willy looked like it was his first flight and took ages sorting out the problems the alarms raised (a light was flashing gear malfunction) fuck I loved that it was like James Bond, and as I was the birthday boy I got to sit next to Willy in the co pilots seat and have a hand at flying the plane (Holly later admitted she was shitting herself!) My favourite was Las Manas (the hands ) coincidentally my star sign in Incan.
From here got a bus north to Lima and did some serious partying … Anyway needless to say an after party with all back at the hotel into the early hours and at 9 am we hit the heaving central market for fresh juices and fruit, what an experience after no sleep.
So hopefully by my next email, Peru will have a new president. The problem is Peru has always had a problem of uniting its people but however bloody its a revolution coming. . . the people say it and they are hot on the tail of Ecuador and Venezuela's example. Love Sam X
14th July 2005 Colombia :
Okay it's ALL COLOMBIA now and probs is not as dangerous as you think (but much more dangerous than I ever imagined) Ive been searched more days than Ive been here but no real trouble, its like the jewell of South America in so many ways. No tourists and some of the biggest contrasts so far
City area more or less safe ……. rural Colombia is another world tiny bamboo shacks wide brimmed platina trees and militia on every corner patrolling the roads like dogs one day you might be searched by the military the next the para military or even guerrillas but you'll not know which as they all bear the same cameo uniform and tout the same old AK 47s and rocket launchers.
Had an amazing time in the stunning capital ,which had breathtaking all-night party (not to mention Hollys birthday) and literal music to my ears as I heard my first drum and bass and break since Argentina. For Hollys big one I managed to acquire a tin of baked beans which sounds as special as a hangover but surprisingly hard to find here, and made her a good old English breakfast with a huge Colombian twist of fruit salad and presents galore.
….Finally burst through to the Caribbean North coast a few days ago and met back up with Holly spent the last three days on a desolate white beach detoxing back on my trusty blue tent literally had it a metre from the sea under a palm tree, the most idyllic spot you can imagine. During the days I snorkelled all the surrounding reefs, ate mango and cracked with the entirely black friendly local population. At night the plankton came out and unbelievably as you swim your whole body glowed bright green, like something out of a computer game. Later sitting in my tent thunder cracked and lightning struck the ocean and I slept with a breathtaking view of the flashing sea.
I'll try email before Castros domain…..
Time has caught up with us at last. Home is in sight and for the first time started thinking of the other world in Europe. On Sunday we fly to Cuba from Venezuela for a few weeks then New York and then it's time. Time for Vida Seria (serious life ) something which I still can't imagine.
Speak or even see you soon. Love Sam xxx
Bradford UNI 2005-2008 Development and Peace Studies.
After his travels and his growing interest in Human Rights and social movements, especially in South America he applied for a course that proved perfect for him. It was the highly respected Peace studies at Bradford Uni. and there he studied democracy and development, International politics, peace processes, impact of economic policies, court reform, economics, conflict resolution, International Relations & Research skills.
While at uni Sam helped set a buddy scheme to provide mentors for international students and was a project organiser for Peace Jam.
Not one to sit around, he gained a place in summer 2006 on the Leonardo da Vinci programme in Malaga on placement as a design consultant from 2nd July -7th Oct 2006.
30th June 2006
Just finished a whirlwind year at the department of Peace studies, Bradford ; a brilliant year of making friends … I'm sitting in Warsaw airport Poland after a fleeting visit to see my girlfriend Sabrina, loved the country loved her family ….
Me and Sabrina travelled up to the north coast passing Gdansk and ending up in Sopo somehow managed to get a room inadvertently in a sanatorium for the night which was interesting, Swam in the Baltic, not dissimilar to the Scottish sea…
So Im off back to Newcastle, then off to Spain for the summer working in Malaga for 3 months which I can't wait for. I'll get a Spanish SIM-card there so I'll let you know my new number
Sams Conflict Resolution reflective diary
As a theatre for change practitioner myself this is music to my ears and as it will be to his Godfather Ali Campbell –
So, if I was to be a co teacher ? I know the simulations seem seem to be a drama sometimes but i think introducing a bit of drama would provide effective and memorable learning to the class. Drawing on the work of Brazilian theatre director Augusto Boal associate of Friere , who created imaginative and inspiring drama and theatre techniques appropriate for exploring social change particularly his invention and use of a theatre system named Forum. ……. The process takes examples from social reality and transforms them back into social reality.
This recommendation From Dr D E Bolton from Department of Peace Studies shows Sams intention to revisit Bolivia and his lecturer writes :-
I have known Sam in my capacity as a lecturer of Peace studies at the University of Bradford …. following travel to several of the countries in the region during his gap year, and has followed this up with unofficially sitting in on a masters level module on the region that I have been teaching. He has also taken an option in Spanish in the first year of his degree. His aim is to take Bolivia as the subject of his undergraduate dissertation and to focus on the changes that are being brought about in the country under the administration of president Evo Morales.
as an off shoot of his dissertation research Sam has conceived of this project that involves travelling to Bolivia to make use of his skills as a photographer by preparing a photographic exhibition on development initiatives particularly in healthcare and education in the southwest of the country to which he will gain access through the cooperation of a local NGO. He is particularly interested in providing visual testimony to the changes that people have experienced since the start of the Morales administration. ….. Sam has shown considerable initiative to come up with this enterprising project ……. worthy of support because of its fit with the material of his degree course and the specialist interests he is developing over his course of study and is also topical and likely to be of interest to the general public.
He has developed a particular interest in and enthusiasm for Latin America
After Uni – work and volunteering
The Sage Gateshead.
Teaching refugees.
Barnardos pyramid scheme.
Worked on Erraid as a lobster fisherman 2009.
Jan 2010 International House Newcastle.
Volunteered at The Hub at Westgate Baptist Church, Newcastle, with asylum seekers at the charity Jet North and gained ESOL teachers certificate
2010 – SAM STARTED TO WORK IN COLOMBIA 2010
Teaching English at various places – 2010 : British Council Colombia; – 2010 – 11 : employees of Eco Petrol in Bogota, Colombia; – 2010 – 12 : teaching English Lincoln English school Bogota.
Sam returns to be with me, Andy and Joe. Andy dies on 8th July 2011
Sam and Joe decided to make a boat /coffin for their dads funeral and named it Tusitala— the teller of tales, a name given to Robert Louis Stevenson in Samoa. The 3 of us were the funeral directors and Sam and Joe spent time with Andy's best friend Kevin to find out as much as they could about him their dads life and both the boys spoke about Andy at his wake in Blackhall Mill.
Later we went to Erraid to scatter Andy's ashes around the observatory on the edge of the Atlantic ocean and coincidentally overlooking where Sam drowned 8 years later. We also scattered some of Sam's ashes there.
Amongst Sam's papers I stumbled across recently there were notes of Sams planning for the funeral and he writes this of Andy :-
..this gentle encouraging of independence is why Andy was perfect both as a Dad and a youth worker.
To see Andy at sea was like seeing a child with a toy, huge grin, satisfaction. Nothing could give him greater pleasure than a fishing expedition on Erraid in the Tilly Whim ( the family boat ) with a boat full of family and Mackerel. This spiritual connection with the sea, and Andys' incredible practicality have resulted in him understanding the boats up on Erraid.
2012-2019 Casa Taller de las Moyas, Bogota.
A volunteer at a grass roots NGO Casa Taller operates in an informal – housing neighbourhood and offers children opportunities and aspirations in an area that offers little of both. My roles include coordination and the teaching of carpentry.
2015 – Alcaldia of Bogota / Taller de Vida.
Running periodic workshops and spaces to allow victims and excombatants to come together and discuss issues around peace and reconciliation, all aiming to improve the social reintegration and a more peaceful coexistence of former adversaries in a post-conflict Bogota.
EAN University, Bogota
Sam was a senior lecturer and coordinator in the content based language modules of International business, International and English culture and diplomacy. Responsibilities include syllabus design teacher training and presenting workshops on pedagogy
Sam was always interested in human rights, politics and social change, active from a young age he actively campaigned and worked to promote justice and equality.
Letter from Sam, writing home :
Gerry – I was going to write you a card but they're too nice to use and I thought you could use them as you see fit. And ,of course don't want to give you something that will come back and haunt me in a future 'tat attack'! They're from the ex combatants at Taller de Vida – painstakingly made with real flowers – the kite is the NGOs symbol chosen for being indicative of resiliance. They're also each young persons conceptualisation of peace -something that most people would take for granted; family and a place to call home. ….The most recent round of research which has involved ex-combatants not only from the FARC but also their sworn enemy the paramilitaries, and also victims of the conflict-and this has shown some interesting and stark results. Notably that reconciliation's a long process, resentments are often only buried very lightly below the surface. More importantly that there is a consensus towards reconciliation, and even short exposure to 'the other' is a catalyst for starting this process and transforms negative perceptions fast…..
………I feel like I'm in some sort of anti austerity struggle The uni is expanding and to pay for this construction has increased class sizes . I've approached the Dean and voiced my concerns but financial factors are more important than educational quality or that's how it seems. This has been coupled by a job offer from one of Colobia's best uni – El Rosario who claim to be 'the cradle of Colombian democracy' – indeed the founding fathers of independence conducted the whole process from there – and the documents are still on site. The politics dept is interested in my research and in terms of political science/peace process stuff its probably the best place to be. I'm defiantly considering it………..
Being away from you and Joe is defiantly the hardest thing about living abroad. I'm sure it wont be for ever. Today one of the women at the NGO said she wants to take you and me to her cabin on the Caribbean coast, and is dead serious about it! Lots of love and speak soon over skype.xxx
El Rosario University. 2016 – his death
A role as a teacher for higher -level general English courses coordinating the development of new syllabi, methods of examinations well as lesson materials. In addition to this creating and teaching diploma in Legal English and Transitional Justice offering legal professionals advanced language practice through content based communicative classes focussing on contemporary themes within international law.
MA study Ex combatants in Columbia 2014 to 2015
. . . working as a carpentry teacher to several groups of insurgent format photos former photos as well as victims of the conflicts gathering perceptions about their Post conflict in the integration experiences this was compared with existing data on how civil society conceived the ex-combatants and more broadly in the current peace process to reveal substantive similarities and differences regarding into group and interpersonal relations in Columbia
For more information about his study, you can download it from his writing page. For this he received a distinction and best dissertation award.
Sam made my world a better, more exciting, more loving place. Although I never got the chance to go to the Caribbean Coast with him, Joe and I went there on our visit to Colombia in November 2019 to find out more about Sam's life and work in Colombia and to visit Casa Taller to participate in a ceremony for Sam and where we scattered the last third of Sams ashes.
After arriving on Erraid, Sam went kayaking the next day. A boy with a lobster tattoo was found by Coastguards, having drowned at sea. He was unidentified. I was able to identify him as Sam.
---
Sam's coffin (above), and Sam's wake (below), July 2019.
Obituary: Sam Ling Gibson


A man who lead by example and will be missed by many.
September 7, 2019
For Sam Ling Gibson, teaching – whether to children, students or friends – was about setting an example. So on Saturday mornings there were no
excuses. Following a week of teaching and regardless of the weekend's activities, he would take the bus to the poor southern outskirts of Bogotá. At
Casa Taller, the community project for children and adults in which he played a central role, resources were scarce. So he taught what he knew –
cooking, street art, woodwork – which was also what he had taught himself. In YouTube videos he encouraged the children to notice the beauty of their
surroundings and to think of a bright future. When they turned the camera on him he declared – Geordie accent softened by a decade of Andean living
– a love for Colombia and its people. Few foreigners went further to prove it through action.
As a 19-year-old backpacker, he was inspired by South America's beauty and its poverty. But how could a foreigner live in Colombia without
contributing to that very inequality? Being a socialist and a socialite required sacrifices and a certain ascetic lifestyle. The Gibson wardrobe – scruffy jeans, collarless shirts, battered trainers – barely changed over a decade. His first Bogotá bedroom, located in an unfinished building in the centre, with rebar still sprouting from the breezeblocks, was a cramped attic space only accessible by ladder. But it was close to the grottiest Septima bars and cheapest beers in the city. And there were plenty of red brick walls just asking for a makeover.
Well before Bogotá graffiti tours became a Trip Advisor sensation, his alterego, Miko, was hauling his stencils and sprays over walls, dodging power
cables and security guards in an effort to add colour and meaning to the capital's forgotten corners. Two of his murals from the period stand out. In
one, Juan Manuel Santos' face sits atop an indigenous girl's clothing whilst across from him is a young indigenous girls face – one of his favourite
stencils – wearing the presidential sash. "We're all a mixture" reads the text that connects the space between the two figures. In the second piece three black-clad riot police, their shields and surroundings smothered by lipstick kisses.
Related: Casa Taller, travelling school goes to Cauca. Those themes – of inclusion and the certainty that love overcomes violence – were well recognised by Gibson's friends. Once he'd moved into a more suitable apartment, he brought together a diverse range of Bogotá characters, where ex-guerrillas and foreign entrepreneurs could rub shoulders over a glass of bargain-basement whiskey or wine from the carton. Political discussion was frequent but friendly. He had a way of talking to people that allowed them to reflect on their own impact on the world without causing animosity.
The flat came to reflect the owner. The interior was filled with his stencil art and woodwork, the balcony overflowed with plants – including one known
to attract hummingbirds, procured after the arrival of an ornithologist flatmate. But there were also notes and quotes scribbled on the walls and
photos of the Casa Taller children he had helped – and those he couldn't get through to – that served as a constant reminder that his work was never
done.
He pressured himself to succeed. At first his friends couldn't comprehend how he fitted so much into his day, then they found his example inspired them to better themselves. Despite suffering from dyslexia and anxiety, he finished top of his Global Diplomacy Masters and revelled in the title of
lecturer. He acquired a new suit for teaching, though the tie always remained loose and he spent increasing amounts of time working with excombatants
in rural areas most affected by civil war. Sam told his friends that he had another two years in Bogotá, but few believed him. His passion for his work and the mounting challenges to the peace process would have kept him angered and engaged for years to come. His death is a loss to many, especially those who believe in positive action and peace and to Colombia.
Sam Ling Gibson, a lecturer at University of Rosario and a contributor to The Bogotá Post, died in a kayaking accident in Scotland in July. To support Casa Taller visit their website or email them.

---
A poem, by Emma Burgess, for Sam.



For Sam


 


Bouncing over heather
Bog blessed peaty sock
Beating through forest broken
Sheep shit, hot rock
 
Rainy days, card games played
Crackling fire glow
Childhood friendships  Erraid croft made
Big sky, whistling wind blow
 
Camping through gales
Return by boggy trails
Campfire smoke, summer glow winter stars
Tidal clock, tick tock, time for now is ours
 
Coloured sheen, black striped back
Fish hook, mackerel, feathers tack
Bonny boat, set the sails
Dancing thrashing fine fish tails
 
Such enthusiastic fishing have the Mullochs ever seen
The most creative creel cuisine there has ever been
Tenderised octopus, conger eel curry
Spice tingled taste buds, no feast in a hurry  
 
Music, family, friends all around
Phosphorescent farewell in the sound
Scattered sparkle, splashing oar
Until the whisky is no more
 
Bountiful energy, open heart
Of so many lives you have been so much part
Teenage mucker, fellow traveller, cheeky charmer, glint in your eye
For now in this life we say goodbye
 
Energy set free, bursting light, no fear of flight
Sunlit rays, gannets back, bright white
Shimmering ocean, glistening granite whistling wind, swirling sand, flying far
Flying high, fly high
 
Love and peace you spread so wide
Until our atoms once more collide
Forever grateful, beautifully blessed
For laughter and memories
Oh how you'll be missed
 


Emma Burgess
July 2019 
• What Did Sam Like ? • We are sharing something of Sam's joy in music, food, friendships, and in his work. You can read, see and hear about that, including a brilliant film, by clicking here •
---
To mark Sam's birthday on 12th May, some of the young people he'd worked with at Casa Taller have recorded these little video tributes to him :-
---
Sam made this video with some of the people at Casa Taller . . . . . . . . . . . . .
and some local politics . . . .
---
Sam's Facebook
You can visit Sam's Facebook page, which has lots more photos and memories of his friends and the places he visitied : https://www.facebook.com/samlinggibson
If you can help or support Sam's inspirational project at Casa Taller Las Moyas at San Luis, Bogota, please go to our Fundraising page.
If you have fond memories of Sam, or a story to tell, then please add them to our ; our Facebook page. Thanks.
---
The Sam Ling Gibson Trust is a UK Charity No 1191726